Topic Summary
Posted by katinka on Dec 6, 2010, 1:37pm
As Kammy stated above we must take environmental contaminations due to climate changes and other biological morphologies which are occurring very rapidly all over the world in to consideration. I tend to recognize, that these circumstances are causing new emerging diseases in flora and fauna, animals and in humans as well. Kammy posted about DMS on another thread and after looking in to it a bit further we believe to have found another big factor, another piece of the puzzle which is part of what's happening in changing our earth and atmospheric conditions.

Surely global warming and it's effects in nature are IMO an additional aspect we should acknowledge. Countries all over the world are trying desperately to stop climate change, using weather altering programs such as the chemtrails to put out as to what they think could possibly hinder or slow down this process. Hurricanes, volcano eruptions, heavy rain storms, floods and earth quakes and last but not least also the antarctic ice melting are IMO all parts that tie up in to what's occurring all over the world causing earth to become a hostile, life threatening planet.

With this thread we are intending to put together the puzzle pieces that have been laying around, scattered out, to be able to show a picture we can work with in order to either get healthier or to at least prevent further biological damage. There is no doubt in my mind that these conditions we are living in are leading to genetic alteration and a form of humanistic mutation or modification of yet to us unknown specification.

Kat

Posted by kammy on Dec 6, 2010, 4:40pm
I'm opening a bunch of pages and just fast skimmed over this article below and... wow, it contains a lot of information so, I'm going to note it for now so I don't lose it and come back to some of the subjects mentioned later. If anyone wants to talk about anything here... we can.:

http://scaleindependentthought.typepad.com/
Posted by skyship on Dec 6, 2010, 5:38pm
Global Warming is a scheme created by the UN. Part of the Agenda 21 scenario.

Skyship
Posted by kammy on Dec 6, 2010, 7:35pm
Let's see what's been going on?:

http://www.oregonlive.com/environment/in....te_univers.html


"After 40 members protested, the Society issued a follow up this fall. It confirms human-caused global warming and cites "substantial" risks.

It also highlights scientific uncertainties -- about cloud formation, water vapor reactions and future carbon dioxide uptake in the oceans and on land, all key to warming predictions. And it concedes that unknowns could lead to "significant modifications in our understanding" of climate change."

Climate scientist dead at 65

http://timesofindia.indiatimes.com/home/....how/6192473.cms

"a Stanford University scientist who served on the international research panel on global warming that shared the 2007 Nobel Prize with former Vice President Al Gore, has died. He was 65.

As a co-author of the Intergovernmental Panel on Climate Change reports that earned a share of the Nobel, Schneider defended the panel's work when it came under attack from critics after some unsettling errors were discovered, including how fast Himalayan glaciers are expected to melt.

The errors were made in a subsection of the world's most authoritative report on global warming, and were found to be insignifcant to its overall findings that glaciers are melting faster than ever.

In recent years Schneider fought a rare form of leukemia, a battle he chronicled in a 2005 book, "The Patient from Hell." That fight helped put into context his work on climate change, helping him to see hope in often gloomy work. "

http://www.patientfromhell.org/

"After many false negatives, Schneider was diagnosed with mantle cell lymphoma (MCL) in 2001. MCL is a rare type of non-Hodgkin's lymphoma in which a person's B cells in the lymphatic system are infected with cancer. It is an aggressive cancer for which no "standard cure" is available, and for which there are very few clinical trials data to guide treatment regimens and patient care."
Posted by kammy on Dec 6, 2010, 7:51pm
We can see that their opinions are all over the place in the above article:

1. Position: Global warming is not occurring

2. Position: Accuracy of IPCC climate projections is questionable

3. Position: Global warming is primarily caused by natural processes

4. Position: Cause of global warming is unknown

5. Position: Global warming will have few negative consequences
Posted by kammy on Dec 6, 2010, 8:14pm
Global warming controversy

http://en.wikipedia.org/wiki/Global_warming_controversy

"In 2007 a report on public perceptions in the UK by Ipsos MORI[19] reported that There is widespread recognition that the climate, irrespective of the cause, is changing - 88% believe this to be true.

An example of the poor understanding is public confusion between global warming and ozone depletion or other environmental problems.

Environmental journalist George Monbiot revealed that a list of "500 Scientists with Documented Doubts of Man-Made Global Warming Scares"[37] published in 2007 by the Hudson Institute and distributed by the Heartland Institute included numerous scientists who had demanded to be removed from the list.[38][39] The institute refused requests by scientists to have their names removed, stating that the scientists "have no right—legally or ethically—to demand that their names be removed."[40]

Political pressure on scientists

Many climate scientists state that they are put under enormous pressure to distort or hide any scientific results which suggest that human activity is to blame for global warming.

These scientists were pressured to tailor their reports on global warming to fit the Bush administration's climate change scepticism. In some cases, this occurred at the request of a former oil-industry lobbyist.[186] In June 2008, a report by NASA's Office of the Inspector General concluded that NASA staff appointed by the White House had censored and suppressed scientific data on global warming in order to protect the Bush administration from controversy close to the 2004 presidential election.[187]

Climate scientist James E. Hansen, director of NASA's Goddard Institute for Space Studies, claimed in a widely cited New York Times article[192] in 2006 that his superiors at the agency were trying to "censor" information "going out to the public." NASA denied this, saying that it was merely requiring that scientists make a distinction between personal, and official government, views in interviews conducted as part of work done at the agency. Several scientists working at the National Oceanic and Atmospheric Administration have made similar complaints;[193]

The BBC's long-running current affairs series Panorama recently investigated the issue, and was told that "scientific reports about global warming have been systematically changed and suppressed."[194]

According to an Associated Press release on January 30, 2007,
Climate scientists at seven government agencies say they have been subjected to political pressure aimed at downplaying the threat of global warming.

The groups presented a survey that shows two in five of the 279 climate scientists who responded to a questionnaire complained that some of their scientific papers had been edited in a way that changed their meaning.

In addition to the pressure from politicians, many prominent scientists working on climate change issues have reported increasingly severe harassment from members of the public."
Posted by katinka on Dec 6, 2010, 8:34pm
United States Secretary of the Interior Bruce Babbitt stated in 1998 that:

It's an unhappy fact that the oil companies and the coal companies in the United States have joined in a conspiracy to hire pseudo scientists to deny the facts... the energy companies need to be called to account because what they are doing is un-American in the most basic sense. They are compromising our future by misrepresenting the facts by suborning scientists onto their payrolls and attempting to mislead the American people."

Further evidence of the energy industry funding climate change denial has been produced by Greenpeace with their Exxon Secrets project. ExxonMobil announced in 2008 that it would cut funding to many of the groups that were denying the science behind global warming but continues to fund over "two dozen other organisations who question the science of global warming or attack policies to solve the crisis."

http://en.wikipedia.org/wiki/Global_warming_conspiracy_theory

A survey carried out by the UK's Royal Society found that in 2005 ExxonMobil distributed $2.9m to 39 groups that the society said "misrepresented the science of climate change by outright denial of the evidence".

http://en.wikipedia.org/wiki/Climate_change_denial

and why didn't Bush sign the Koyoto protocoll?..because:

'To reach this goal, countries must put greenhouse emissions controls on its largest polluters, which are corporations and militaries.

George Bush made campaign promises in 2000 to regulate carbon dioxide as a pollutant. However, in 2001, George Bush pulled the US out of the Kyoto accords as one of the first acts of his presidency. Bush dismissed Kyoto Protocol as too costly, describing it as "an unrealistic and ever-tightening straitjacket."

"As the world celebrates the global warming pact's debut, Bush continues to pander to the energy industry."

US accounts for 25% of all greenhouse emissions in the world.

http://usliberals.about.com/od/environmentalconcerns/p/KyotoProtocol.htm

Isn't America in the UN and would also take part of the Agenda 21 'plan? If the global warming issue is a scheme and only used to serve the purposes of those who want to 'rule the world', then why didn't he sign it? and wouldn't you think he would be a 'member', a participant or even a friend of those groups who are intending to destroy our lives, to depopulate, to kill and spread diseases? and he would have willingly signed it?

Because, and this is my opinion only, Bush is protecting the energy lobbyists, the pharmaceutical companies, the steel/car industry and so on, well knowingly that they are highly contributing as to what's destroying our earth.

What happened with the Gulf oil spill and the negation of it's effects on the ecosystem causing symptoms similar to ours as well on humans and animals is another 'indicator' and what about the other incidents which occurred such as the man stirred hurricanes, the volcano eruptions..etc..?

If these 'accidents' were/are intentionally triggered to later put the blame on global warming then why negate it? It would be nothing easier than to blame all the people and global warming for what they have done.

Those who should be held responsible are protected and are the main foe men against the global warming affair and it's paid misinformation to the citizens.

Unfortunately it's all about money, greed and power.


Posted by kammy on Dec 6, 2010, 9:04pm
Politics of global warming

http://en.wikipedia.org/wiki/Politics_of_global_warming

"The politics of global warming have involved corporate lobbying, funding of special interest groups and public relations campaigns by the oil and coal industries [1] which have affected policy decisions and legislation worldwide. In turn this has caused political debate over the science of and response to global warming.

Positions of the energy industries

One of the biggest opponents of action on global warming has been the fossil fuels energy industry, and particularly the oil industry, such as ExxonMobil, which regularly publishes papers minimizing the threat of global warming. In 1998, the company started providing financial support to organizations and individuals who disagreed with the scientific consensus that human activities were contributing to climate change.

One sector of the energy industry that has no problem with the greenhouse gas arguments is the nuclear industry.

Nuclear power produces fewer CO2 emissions than fossil fuel plants; the exact level remains somewhat controversial; Greenpeace assert that nuclear power produces about one third of the CO2 emissions as equivalent fossil fuels energy over the lifetime of an installation.[20]"
Posted by kammy on Dec 6, 2010, 9:41pm
November 8, 2010

"Scientists Fight Back

http://climateprogress.org/2010/11/08/cl....-hang-together/

"The big story today is that two different groups of scientists are organizing efforts to respond to the most effective and self-destructive disinformation campaign in human history.

The American Geophysical Union

AGU is the world's largest, not-for-profit, professional society of Earth and space scientists, with more than 58,000 members in over 135 countries.

The main motivation for forming the climate rapid response team is to provide rapid, high-quality information to the media and the public. We know that each year, the science supporting human-caused global warming gets stronger and each year, the consequences become larger. We also know that the window of opportunity is quickly closing. If we don't take meaningful action soon, we will be committed to significant environmental damage.

There are very few legitimate scientists who disagree, in fact, approximately 97% of the top climate scientists believe we have a problem.

On the other hand, the general public and members of government are split virtually down the middle on this issue. Half are concerned about global warming, half are not."
Posted by kammy on Dec 6, 2010, 10:31pm
CLAW hypothesis

http://www.absoluteastronomy.com/topics/CLAW_hypothesis

"The CLAW hypothesis proposes a feedback loop that operates between ocean ecosystems and the Earth's climate. The hypothesis specifically proposes that particular phytoplankton that produce dimethyl sulfide are responsive to variations in climate forcing, and that these responses lead to a negative feedback loop that acts to stabilise the temperature of the Earth's atmosphere.

The CLAW hypothesis

The hypothesis describes a feedback loop that begins with an increase in the available energy from the sun acting to increase the growth rates of phytoplankton by either a physiological effect (due to elevated temperature) or enhanced photosynthesis (due to increased irradiance). Certain phytoplankton, such as coccolithophorids, synthesise dimethylsulfoniopropionate (DMSP), and their enhanced growth increases the production of this osmolyte. In turn, this leads to an increase in the concentration of its breakdown product, dimethyl sulfide (DMS), in first seawater, and then the atmosphere.

The Anti-CLAW hypothesis

Under future global warming, increasing temperature may stratify the world ocean, decreasing the supply of nutrients from the deep ocean to its productive euphotic zone. Consequently, phytoplankton activity will decline with a concommitant fall in the production of DMS. In a reverse of the CLAW hypothesis, this decline in DMS production will lead to a decrease in cloud condensation nuclei and a fall in cloud albedo. The consequence of this will be further climate warming which may lead to even less DMS production (and further climate warming ...)."

Posted by skyship on Dec 6, 2010, 10:47pm
Kyoto made the ZNOs.

The Rothchilds created the scheme.

================\\Globalist Foundation Exploits Angry Child to Blame Adults for Fake Climate Change

*
The Alex Jones Channel Alex Jones Show podcast Prison Planet TV Infowars.com Twitter Alex Jones' Facebook Infowars store

Kurt Nimmo
Infowars.com
September 16, 2020

In a video produced by Greenpeace, the "environmental" organization funded by the eugenicists at the Rockefeller Brothers Fund and Ted Turner Foundation, an angry boy blames selfish adults for climate change.

Greenpeace also takes money from John D. and Catherine T. MacArthur Foundation, Charles Stewart Mott Foundation, the John Merck Fund, the Wallace Genetic Foundation, and the Foundation for Deep Ecology, and others.

Basing his argument on discredited quasi-science, the boy donning a gangbanger hoodie warns that adults have had their chance to save the earth and now it will be the responsibility of the next generation to set things right — or set them right according to the globalist eugenicists. If the child's facial expression is any indication, the effort will be less than kind.

* A d v e r t i s e m e n t
*

I am reminded of the school children of Mao's Red Guard when I look at this boy. Mao's brainwashed young zombies killed around 7 million people during the Cultural Revolution. All told, Mao was responsible for murdering around 70 million people.

The threatening video arrived prior to Al Gore instructing children to confront their parents over so-called climate change.

Climate change was redefined as "global climate disruption" recently by Obama's director of the White House Office of Science and Technology Policy, John Holdren.

Fresh food that lasts from eFoods Direct (Ad)

"A massive program with its tentacles embedded into almost every corner of education and popular culture is underway to use the 'green' agenda to brainwash children and turn them against their own parents, as the state moves towards the creation of a Stasi-style informant society using methods that have been repeated in every totalitarian state throughout history," Paul Joseph Watson wrote after Gore aimed his speech at impressionable children.

—
http://www.infowars.com/globalist-founda....climate-change/

===========================

In their own words.

http://www.youtube.com/watch?v=CH2SfNGmmVc

Skyship

Posted by skyship on Dec 6, 2010, 10:53pm
The Congress on the changes in the fisheries (a UN order) was due to a genetically created
plankton release the Black sea, the Sargasso Sea etc. changing the very
evolutionary cycles in the oceans.


===================================

Serpentinite reactions

Reaction 1
Mg-Olivine + Carbon dioxide → Magnesite + Silica

Mg2SiO4 + 2CO2 → 2MgCO3 + SiO2 + H2O

Reaction 2
Serpentine + carbon dioxide → Magnesite + silica + water

Mg3[Si2O5(OH)4] + 3CO2 → 3MgCO3 + 2SiO2 + 2H2O

Reaction 3
Mg-Olivine + Water + Silica → Serpentine

3Mg2SiO4 + 2SiO2 + 4H2O → 2Mg3[Si2O5(OH)4

Reaction 4
Fe-Olivine + Water → Magnetite + Silica + Hydrogen

3Fe2SiO4 + 2H2O → 2Fe3O4 + 3SiO2 + 2H2

Zeolitic imidazolate frameworks
Main article: Zeolitic imidazolate frameworks

Zeolitic imidazolate frameworks is a metal-organic framework carbon dioxide sink which could be used to keep industrial emissions of carbon dioxide out of the atmosphere.[50]

http://en.wikipedia.org/wiki/Carbon_sink


Buckyballs are polluting the environment.

Made of nickel and tin.

Polluting humans.

Chemtrails deliver buckyballs. Teller s idea, in 1990.

This info has been put out there before, so, no misleading here.

Skyship

Posted by skyship on Dec 6, 2010, 10:58pm
To lie about the sciene is one thing, to make money off the lie, is another.

Is the sun heating the earth, or is the earth actually heating itself,

Geothermal conductance?

There should be a discussion from ALL scientists on this issue, not one side only.

Skyship
Posted by skyship on Dec 6, 2010, 11:00pm
There are magnetic forces from sun causing magnetic changes on earth.

This need to be taken into consideration as well.

The real science is being repressed.

Skyship
Posted by kammy on Dec 6, 2010, 11:08pm
Help me figure this out? I've thought the carbon balls were either buckyball technology or this other technique they use in the baculoviral creations, I'd have to look it up... the next thing we see in the Petri are the brown spheres that could be synthetic, fungi or bacterial. I'm trying to see if the DMS incorporates or can turn into something else, I'm thinking it's like the shell or container?
Posted by kammy on Dec 6, 2010, 11:19pm
Manipulating Polymer Surface Properties

http://www.cheme.cornell.edu/cheme/people/profile/projects.cfm?netid=

"In extrusion experiments through long metallic dies, we have observed that the surface of polystyrene (PS) seeded with low molecular weight polystyrene-poly (dimethyl siloxane) (PS-PDMS) copolymers can be selectively saturated with DMS groups even at bulk DMS concentrations as low as 1 wt.%. "
Posted by lilsissy on Dec 6, 2010, 11:21pm

Kammy , I am reading all of this but I must admit it all makes my head spin.
I have read these debates some in the past but I must admit I have decided very little on the subject.

It is like falling into another bottomless pit trying to figure out the truth of the climate change debate.

I do feel that I know that a group are killing our Scientist , who , why they are doing this I do not know.

The other day I spend an hour or so looking over the research activities of the Dead Scientists, I do not believe that all where killed. One thing was certain ,way to many of these Scientist had previously been studying Mad Cow Disease...prions...


What I feel is occurring is that the United States has put up a nano shield that can be assembled to meet incoming rockets.
It is thick like pea soup ,when the rocket hits it at a high rate of speed it is like hitting a brick wall.
These nano's float in the upper atmosphere independent from one another until a catalyst causes then to form the pea soup phase.
This was what I remember from the little research myself and my sister Karen had done a few years ago.
I think maybe Sky was in on it too.

The unfortunate thing is that Our Government had a call out to make safer for humans nano's for this program.

Also I believe that this upper atmosphere conglomeration of nano's carry fungus.

There was a woman who received acclaim for finding that forest fires carried fungi across the Atlantic piggybacked on the carbon from the fires. Grass when burnt at high temps creates natural nano's.

So if our Government is spraying the atmosphere ( we had articles to prove that was occurring) for either climate control or for Star War Missile Shield Programs , they may have inadvertently caused a scenario
foretold,
The sun will not give off her light as foretold by John in the book
Revelation.

Large fires are also foretold . I personally feel Atmospheric heaters such as HAARP are being used as weapons.

but I have found evidence that also makes me believe that beams of light collected on a prism can be directed at a target and cause spontaneous fires to occur at once.

well I'll see if I can find the article for you.

Did you ever read of the Italy fires that our Govenrmnet said was caused by forces not of this earth ?





Posted by kammy on Dec 6, 2010, 11:22pm
Micelle

http://en.wikipedia.org/wiki/Micelle

Solvation

By contrast, surfactant monomers are surrounded by water molecules that create a "cage" of molecules connected by hydrogen bonds. This water cage is similar to a clathrate and has an ice-like crystal structure and can be characterized according to the hydrophobic effect. The extent of lipid solubility is determined by the unfavorable entropy contribution due to the ordering of the water structure according to the hydrophobic effect.

The formation of micelles can be understood using thermodynamics: micelles can form spontaneously because of a balance between entropy and enthalpy. In water, the hydrophobic effect is the driving force for micelle formation, despite the fact that assembling surfactant molecules together reduces their entropy. At very low concentrations of the lipid, only monomers are present in true solution. As the concentration of the lipid is increased, a point is reached at which the unfavorable entropy considerations, derived from the hydrophobic end of the molecule, become dominant. At this point, the lipid hydrocarbon chains of a portion of the lipids must be sequestered away from the water.

Micelle formation is essential for the absorption of fat-soluble vitamins and complicated lipids within the human body. Bile salts formed in the liver and secreted by the gall bladder allow micelles of fatty acids to form. This allows the absorption of complicated lipids (e.g., lecithin) and lipid soluble vitamins (A, D, E and K) within the micelle by the small intestine."
Posted by skyship on Dec 6, 2010, 11:24pm
http://www.iceagenow.com/growing_glaciers.htm

skyship
Posted by kammy on Dec 6, 2010, 11:26pm
Vesicle (biology and chemistry)

http://en.wikipedia.org/wiki/Vesicle_(biology)

"A vesicle, like liposome can be visualised as a bubble of liquid within another liquid, a supramolecular assembly made up of many different molecules. More technically, a vesicle is a small membrane-enclosed sac that can store or transport substances."
Posted by lilsissy on Dec 6, 2010, 11:40pm

This has some of the best research that sky and I have done,

I am sure there is lots in it for you on the Micelles

http://lymebusters.proboards.com/index.c....ead=9583&page=4

Jen
Posted by skyship on Dec 6, 2010, 11:41pm
II - The bioGENESIS Science Plan
FOCUS 1. New strategies and tools for documenting biodiversi
TASK 1.1 Discovering the unknown
TASK 1.2 Capturing biodiversity information
TASK 1.3 Developing phyloinformatics
FOCUS 2. The causes and consequences of diversification
TASK 2.1 Evolutionary change in diversity
TASK 2.2 The evolutionary history of biotic assemb
TASK 2.3 The evolution of functional traits
TASK 2.4 Rapid evolution and eco-evolutionary dyn
FOCUS 3. Evolution, biodiversity, and human well-being
TASK 3.1 Evolutionary ecosystem management
TASK 3.2 Evolution and climatic change
TASK 3.3 Combating disease
TASK 3.4 Evolutionary conservation
III - Implementation Strategy

-------

References
Smith SA, Tank DC, Boulanger L-A, Bascom-Slack CA, Eisenman K, Kingery D, Babbs B,
Fenn K, Greene JS, Hann BD, Keehner J, Kelley-Swift EG, Kembaiyan V, Lee SJ, Li P,
Light DY, Lin EH, Ma C, Moore E, Schorn MA, Vekhter D, Nunez PV, Strobel GA,
Donoghue MJ and Strobel SA. 2008. Bioactive endophytes warrant intensified
exploration and conservation. Public Library of Science One 3(8):e3052
Strobel GA and Daisy B. 2003. Bioprospecting for microbial endophytes and their
natural products. Microbiology and Molecular Biology Reviews 67(4):491-502
Strobel GA, Knighton B, Kluck K, Ren Y, Livinghouse T, Griffen M, Spakowicz D and
Sears J. 2008. The production of myco-diesel hydrocarbons and their derivatives by the
endophytic fungus Gliocladium roseum. Microbiology 154:3319-3328
FIG. 2.2. Gliocladium sp.,
showing hyphae and spores,
©M Donoghue.

(Box 3). Here too, the aim of bioGENESIS is
specifically to enable the deployment of
evolutionary methods.

http://www.diversitas-international.org/uploads/File/biogenesis_sp_final.pdf

all based on evolutionary programs, directed and forced.

Skyship
Posted by kammy on Dec 6, 2010, 11:51pm
If we go back to this previous article:

http://scaleindependentthought.typepad.com/

"The Sphere of Stewardship

Emiliania huxleyi is a spherical coccolithaporoid less than 4/1000ths of a millimeter in diameter (4 microns). As the most abundant phytoplankton in the world's seas, Emiliana is a major producer of three climate forcing substances: organic carbon, calcium carbonate and dimethyl sulphide (DMS). These coccolithopores close pack together in a swarming mass before they fall to the water's floor, or rise to its surface. The role of this most prevalent phytoplankton in the world's oceans is to reflect the sunlight, much like snow in the arctic. Miles-long blooms of Emiliania, sometimes as large as the country of England, swirl with the ocean gyres to form massive, brilliant white "creatures" on the ocean's surface."

http://scaleindependentthought.typepad.c....e4adb970c-500wi

Emiliani's work also proved that Earth's climate cycles are a cosmological problem – demonstrating that we must look at the dynamics of Earth's orbit in space to better understand our cyclic ice ages."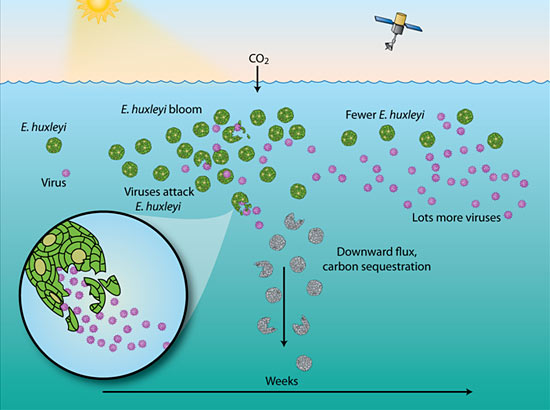 Posted by kammy on Dec 7, 2010, 12:07am
http://www.uga.edu/protozoa/portal/images/113-28.jpg

http://en.wikipedia.org/wiki/Emiliania_huxleyi

"It produces a group of chemical compounds that are very resistant to decomposition. These chemical compounds, known as alkenones, can be found in marine sediments long after other soft parts of the organisms have decomposed. Alkenones are used by earth scientists as a clue to past sea surface temperatures.

This species has been the inspiration for James Lovelock's Gaia hypothesis which claims that living organisms somehow may be able to self regulate their own conditions of chemistry and climate at a state favourable for life."
Posted by kammy on Dec 7, 2010, 12:14am
http://en.wikipedia.org/wiki/Emiliania_huxleyi_virus_86

"From initial investigation of the Coccolithoviruses genome, a sequence of genes responsible for production of ceramide was discovered [4]. Ceramide is a controlling factor in cell death, and it is currently thought that Coccolithovirus uses this to prolong the life of Emiliania huxleyi while it uses the host cell to replicate. This is a unique ability unseen in any other viral genome to date."
Posted by kammy on Dec 7, 2010, 12:21am
Organic Carbon...

https://www.llnl.gov/str/March06/gifs/Brown1.jpg
Posted by skyship on Dec 7, 2010, 3:22am
There is a considerable interest in DMS in the scientific literature that focuses on global climate. DMS is thought to play a role in the earth's heat budget by decreasing the amount of solar radiation that reaches the earth's surface.

http://serc.carleton.edu/images/microbel....ustratio.v2.jpg

The magnitude of the marine DMS emissions is all the more remarkable considering that over half of the DMSP released is demethylated and that a significant fraction of the DMS is oxidized by bacteria in the water column before it can be released to the atmosphere. While most of the biogenic sulfur emissions (primarily DMS) come from the oceans, those coming from salt marshes and coastal wetlands are many times higher on a unit area basis. DMS flux per unit area from these marine wetlands is also much higher than from any known terrestrial soil.

http://serc.carleton.edu/microbelife/microbservatories/sapelo/signif.html

======================

DMS, H3C-S-CH3

skyship


Posted by kammy on Dec 7, 2010, 8:45am
BINGO!



Great article, Sky - this photo is the life cycle that's probably now been altered from whatever is being added... but close enough for us to get an idea:




Ok, this diagram gives us a BINGO... you see 'fecal pellet'? I have already shown in the life cycle where the insect is 'pooping' the next generation with a 'carbon ball' !! This carbon ball appears to be DMSP.

http://tinypic.com/r/fdxcus/7
Posted by kammy on Dec 7, 2010, 9:09am
International Symposium on Biological and Environmental Chemistry of DMS(P) and Related Compounds

http://dmsp.nio.org/

"Aerosols and clouds play an important role in reducing the amount of solar radiation that reaches the Earth. The clouds help by acting like a 'mirror' reflecting part of the incident solar radiation. Earth would be far hotter without this cooling mechanism. Clouds are formed by the aggregation of moisture and aerosols. The moisture comes from evaporation and the released aerosols have both anthropogenic and natural sources. Whilst industry is the dominant source of the man-made aerosols, natural aerosols are released at the earth surface in the form of dust and sea spray. Aerosols also form in the atmosphere from biogenic gases emitted at the Earth's surface. Dimethylsulphide (DMS) is perhaps the most important marine biogenic gas that contributes to white clouds in the atmosphere and facilitates higher reflectivity and cooling.

The role of DMS in climate was first highlighted in the 1970's, but we still don't completely understand its mechanisms of formation and fate. DMS is derived from a major algal precursor dimethylsulphoniopropionate (DMSP). The biological reasons for DMSP production by phytoplankton are not clear although several theories on its role as osmoly te, anti-grazing compound, anti-bacterial and anti-oxidant have been proposed. Similarly, the fate of DMSP in seawater is important because decomposition doesn't always lead to DMS formation. The biogenic DMS undergoes transformations before forming the sulphate aerosols in air. The hygroscopic sulphate aerosols condense along with other constituents in atmosphere leading to the formation of condensation nuclei (CN) and cloud CN (CCN), which are important in formation of clouds and rain.

Despite the relatively simple schematic that biogenic DMSP leads to the formation of DMS, oxidation of which will lead cloud droplet formation, there is substantial complexity in the picture between the processes and intermediate compounds produced in cells of organisms in seawater and particles/clouds in atmosphere."
Posted by kammy on Dec 7, 2010, 9:44am
So, the 'fungus' we've been looking for is related to?:

"DMS is derived from a major algal precursor dimethylsulphoniopropionate (DMSP)."

Algal precursor:

Precursor -

1. One that precedes and indicates something to come.
2. One that precedes another; a forerunner or predecessor.
3. A biochemical substance, such as an intermediate compound in a chain of enzymatic reactions, that gives rise to a more stable or definitive product.

http://www.helium.com/items/262564-why-a....ered-plant-life

"Algae, fungi, and microbes are all considered "protists" by the biological science community. Algae are plant-like protists, but they are not considered plants.

As algae are the precursors of plants, they may be the precursors of animals. These micro-organisms live everywhere around us- in the water, air, and soil. They even live inside our bodies, performing important tasks."